Councillor backs school reuse project as crucial for Barton Street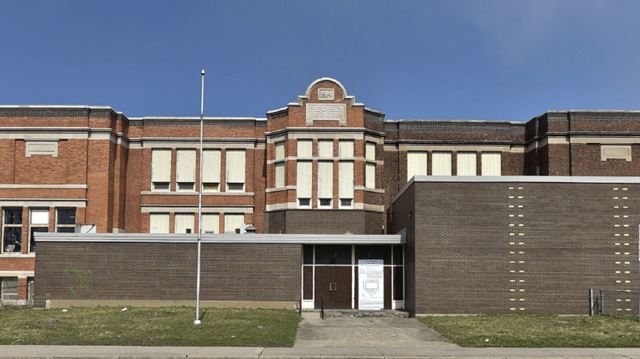 GIBSON SCHOOL
Scott Gardner,The Hamilton Spectator
Stinson Developments has plan for the former Gibson School, and the city's heritage committee is asking council to designate the school as a heritage property.
Hamilton Spectator
A plan to turn an abandoned public school into upscale condos is being hailed as a major boost to one of Hamilton's most distressed areas.
Stinson proposes to turn the idled property into more than 100 condos priced up to $440,000, and Green says the colourful developer is just the person to do it.
"We don't get a lot of love on Barton Street and here's someone who's willing to put his money where his mouth is," Green said. "This is a major development that's going to bring a lot of value to Barton Street."
The Hamilton Municipal Heritage Committee will ask city council to put a heritage designation on the property to preserve unique elements. That's a move Stinson said he welcomes and agreed to as soon as it was proposed.
"We have been working with the city all along and what we will do will be entirely sympathetic with the building," Stinson said. "We are all working together on this."
In its report to city council the heritage committee says "The building contains several features that demonstrate craftsmanship and artistic merit, including minimal or understated decorative detail inspired by classical conditions," and that designating it a heritage property is the way to save those features.
"The former school is historically related to its surroundings, constructed at a time when Hamilton was expanding eastward and many new neighbourhoods were constructed, and large schools were needed to serve these expanding areas," the report states.
"The former Gibson School has heritage value as a contributor to the Hamilton public education system for nearly 100 years," the report adds.
Gibson operated from 1914-2009, but a school had operated on the site — Barton Street East between Gibson and Birch — since as early as 1854. The school is built in the Edwardian Classicism style, a style defined by the use of brick, understated details and many large windows.
Stinson, a colourful character who came to Hamilton from Toronto will big plans for a 100-storey tower on the site of the Royal Connaught Hotel, has so far succeeded in turning the former Stinson Street School into a condo building, a project that also meant preserving heritage aspects of the building.
Green said in an email message he's confident Stinson will repeat that performance with the Gibson project.
"Mr. Stinson is a very sophisticated investor in adaptive reuse of heritage properties here in Hamilton. He understands the market demand for built heritage and urban living very well. Having worked along him on the Gibson school project, I know he supports, in fact encouraged, the designation as a selling feature for his project as well as for the potential access to our city's financial heritage development incentives.
"We are particularly excited to see his recent move to Barton Street as it signals a growing trend towards redevelopment in our Ward 3 community," he added.
Stinson purchased the Gibson school site in 2013 and announced the start of sales last year just as the final units on Stinson Street were sold.
The Gibson project envisions 80 main units including 26 glass-wrapped penthouses on a to-be-constructed fourth floor and six townhouses on the property.
At the time, Stinson said Barton reminded him of Toronto's Queen Street West when he and partners made what was seen as a crazy investment in a derelict factory. The Candy Factory Lofts is credited for being a catalyst of gentrification in that neighbourhood.
"I think the turnaround on Barton would happen like that," he said at the time. "I'm prepared to gamble on the future of the area."
Preconstruction sales for the project started at $159,000. The Internet site for the Gibson project Monday lists prices including $180,000 to $400,000 for the basic units and $440,000 for a penthouse unit. Parking spaces are extra.
sarnold@thespec.com
905-526-3496 | @arnoldatTheSpec