Well, it sure has been an interesting few months for our local Real Estate market leading to big questions about prices, supply, demand and overall "where do we go from here" followed by the equally important "how do we get there"?
Are we approaching the bottom of this Real Estate market correction? What's next for Hamilton-Burlington?
But first things first; It's important to realize that what we have been experiencing is a much needed market correction NOT a full on "bubble burst" collapse.  A healthy perspective is crucial, understanding that our local market is correcting itself back into a healthier balanced market – and that is a good thing, for everyone.
So what's been going on?
The market downturn comes as consumer confidence weakens and of course as interest rates continue to rise.  In March of 2022 we started to see mortgage rates rise.  The increases have continued through the Spring, the Summer, and now into Fall.  As rates rise and with the threat of further increases looming, Buyers have become more cautious and more reserved.  Investors have become more savvy.  And Sellers have started to reconsider whether or not it truly is the best time to sell.
The Sellers who need to sell have remained optimistic and have contributed toward the steady amount of new listings still coming onto the market.  This increase in active listings coupled with a large decrease in sales volume has resulted in more buyer-friendly real estate market.
While this change has been welcome news for Buyers, some Sellers may have been caught off guard and are struggling to cope with this new reality.
As we approach Winter and a potential seasonal slowdown some Sellers are taking one more shot in hopes of finding their buyers in this Fall Market.
Where is the bottom? When does this end?
To understand this I want to take you back.  Way back. A decade back to be exact. Sometimes to have a clearer understanding of the reality of where we are now we need to retrace our steps and look at the "bigger picture".
The following graph highlights Real Estate trends since 2012.  A clear upward trend is evident not to mention this graph clearly shows what we all have all been feeling over the past 2 years.   We were living through one of the strongest Sellers' markets of all time.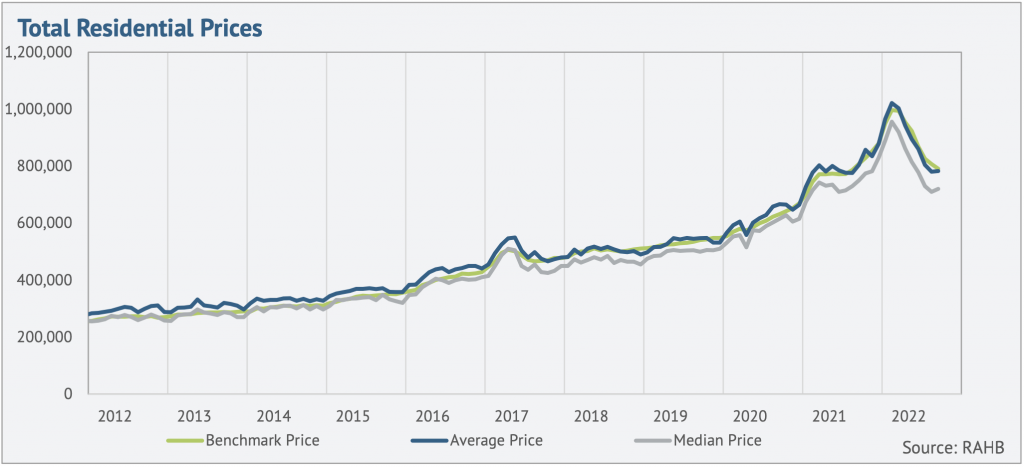 Looking at the next graph you'll see a bolded red line.  This is what I am calling a "historic support line". Even though there are naturally peaks and valleys above and below this "support line" statistics show that home prices have remained in a continual upward trend since 2012.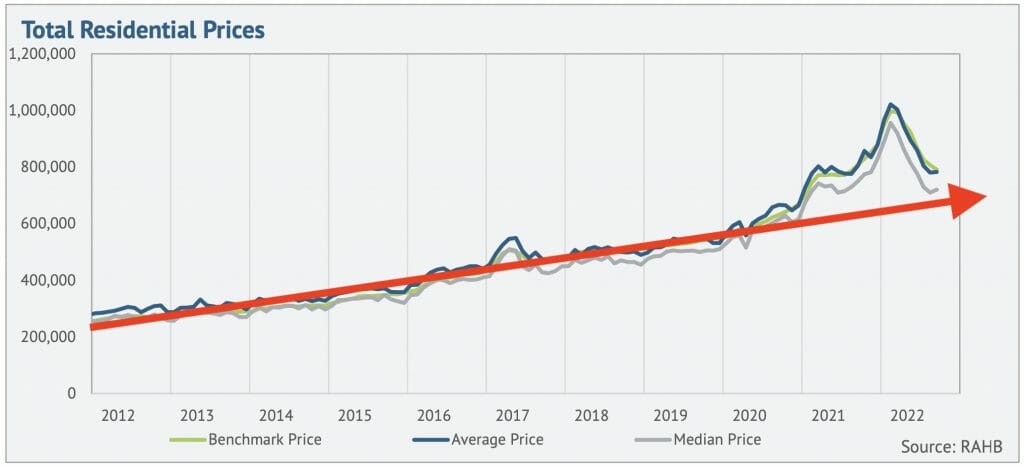 The past 2 years however have skyrocketed far beyond this support line, with home prices reaching approximately $400K more than the support line in the beginning of 2022 and now tapering off to just above the support line as we near the end of the year. Yes, prices have retracted, but is it very important to remember that they are still ABOVE our historic support line.
Have we reached the bottom of this correction?
Real Estate is cyclical and as such I am optimistic that we are reaching the bottom of this correction.  Here are a few reasons why I am optimistic that our market will remain healthy post correction.
Reason #1: Supply and Demand
With a record number of new immigrants set to arrive in Canada in the next (over 447,000 in 2023) (FN LINK) and the ability to only produce 214,000 new homes (FN LINK) there will continue to be not just an affordable home shortage, but an overall housing supply shortage.
As prices fall some Developers may decide to slow their production further decreasing the number of new builds.   According to CMHC Ontario needs to build an additional 1.85 million homes in the next 7 years to help close the affordability gap. (FN LINK)
Reason #2: Life Goes On
While the financial and housing markets continue to fluctuate life does go on.    People get together, they break up.  Life begins, life ends.  Jobs change, lifestyles change.  Families grow with new kids.  Families blend, multi-generational households combine.
There IS and always WILL BE a need for resale real estate.
Reason #3: Tremendous Investment in Our City
After over 2 Billion Dollars of development in 2021 Hamilton is already over 1.5 Billion Dollars committed in 2022.   The word is out – Hamilton is one of the most economically diverse economies in the country and its excellent geographic position is a sought-after place to invest.
Balance is Good!
Again, this market correction is simply correcting us back to a more balanced market.   Remembering from blogs of the past a balanced market is a 3 to 1 sales ratio.  For every 3 homes that come on the market 1 will sell.   Listings take on average between 30-45 days to sell in a balanced market.
Buyers are not only aloud to finish their coffee before they must sign an offer but they can have conditions on that offer, including the return of "condition on the sale of the Buyers property" which was practically unheard of in 2021 and the majority of 2022. Buyers are now able to purchase with more confidence and a greater sense of security.  With this increase in inventory Buyers are finding themselves with more options as listings are no longer selling overnight or in multiple offer "bidding wars".
Manage Your Expectations
While we have seen a large retraction in average sale price please remember we did see a massive (48-50%) increase in 2020 and 2021.   So a 30% retraction in 2022 is still UP 20% over 2019 numbers.
Now more than ever both Sellers and Buyers need to adjust their expectations and stay informed.
Sellers:
Price for this new market. You have to do your best to forget about what you "may have got" for your home months ago, or what your neighbours property sold for – this is a different market.
Take time to do minor updates and improvements to make sure your property stands out amongst the competition.
Price accordingly and realistically.
Be patient.  This is a more balanced market – listings need time to be exposed to the market to find their Buyer.
Properties that are priced and marketed properly ARE selling.
Buyers:
There is GREAT value out there. This is one of the best times to buy that we have seen in many years.
When looking for a home you do not need to necessarily try and time the "bottom" of this market.  Not every property is "over-priced" and the days of "bidding wars" on every listing are long gone.
There may still be a further retraction, but in the long run do not let that stand in the way of finding the home that is right for you.
Understand your local market.  Let us help you know when a price is too high or just right and when it's time to act with a fair and reasonable offer.
We will move forward and navigate this market together.
No pressure! We will move at your pace and comfort level. Let's navigate this market together.
Reach out anytime – I am always happy to chat Real Estate.